---
Trouble Shooting
Troubleshooting Sparrow
Can't get sparrow running? No need to worry, this page is for you. First, check a few things about your environment.
Make sure Docker and Docker Dameon is installed.

If using a windows computer, make sure WSL2 integration is turned on in Docker Desktop as well as your Linux distribution of choice.
Some issues may arise from Docker not having access to certain files on your computer. File-sharing can be managed in Docker Desktop under Settings > Resources > File Sharing.
Make sure your version of Docker Engine is up to date with the latest release. Docker desktop has convenient updating through the user interface but if you're trouble shooting for a server check out the page on Docker for Ubuntu Servers .

Make sure you have a lab configuration.

The easiest way to get a lab directory set up is to run sparrow create-test-lab on the command line. This will autogenerate sparrow-configuration files and site-content directories needed for customizing a sparrow instance. After the files are created you can easily edit them to fit your lab's needs.

Make sure you've downloaded the latest version of sparrow by running:
bash -c "$(curl -fsSL https://raw.githubusercontent.com/EarthCubeGeochron/Sparrow/HEAD/get-sparrow.sh)"

Make sure sparrow installed correctly.

Run sparrow info this shows how the application is installed on your computer.
Under Command-line-interface it should say Bundled with PyInstaller: /usr/local/opt/sparrow .
cd into /usr/local/opt/sparrow and run ls to view files within the directory.
Ensure that a directory called srcroot exists.

If failing on backend container on sparrow up , try running sparrow init to initialize the database.
Other helpful commands:
sparrow up --force-recreate
When using the bundled version of sparrow I was getting this error
ERROR: for backend  Cannot create container for service backend: invalid mount config for type "bind": bind source path does not exist: /usr/local/opt/sparrow/srcroot/backend

This was solved by going into docker desktop and adding usr/local/opt to the file-shared list located in settings/Resources/FILE SHARING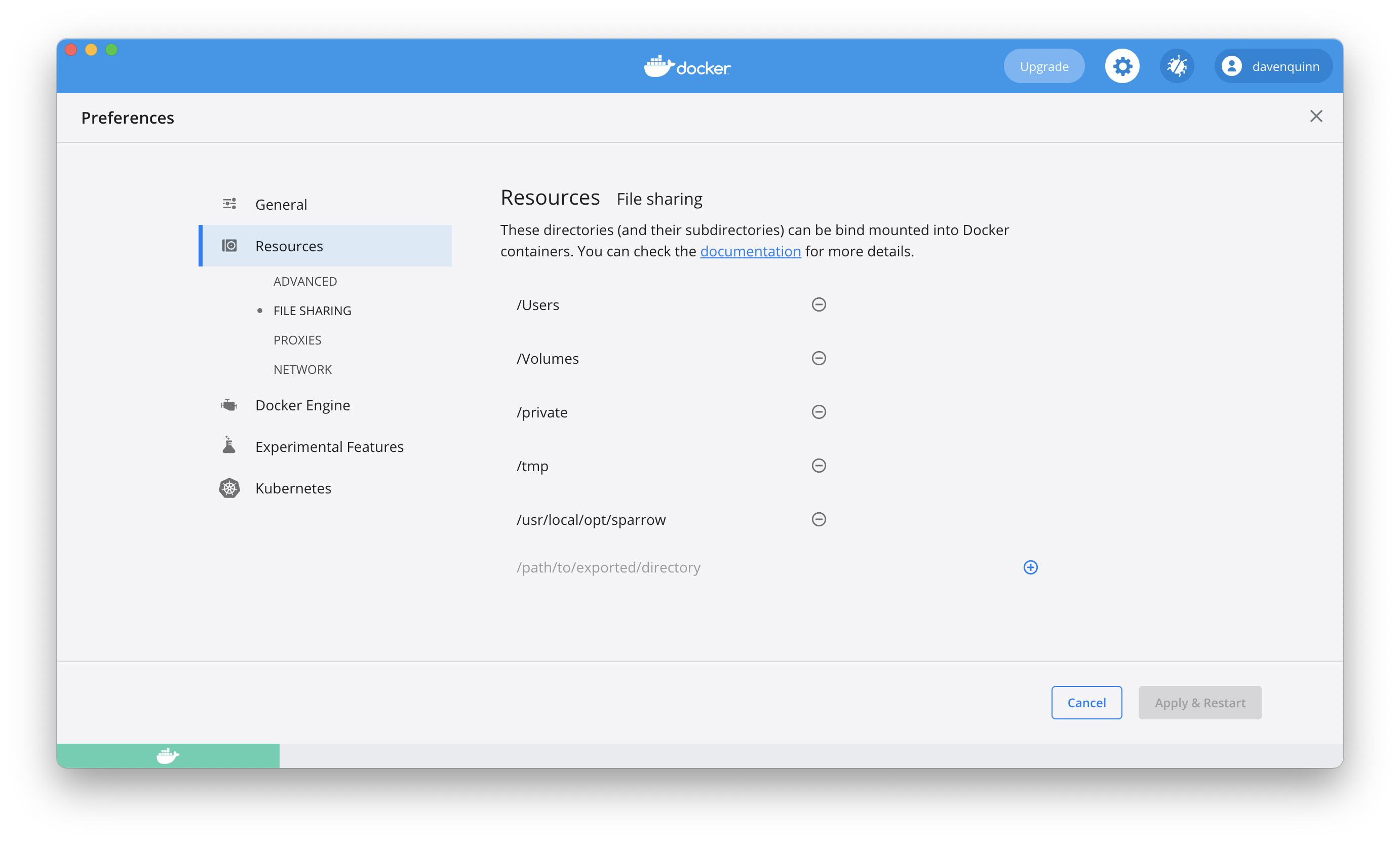 Now there is a new issue.. the frontend doesn't start. No error logs, just says error.
ERROR: for frontend Cannot start service frontend: OCI runtime create failed: container_linux.go:380: starting container process caused: process_linux.go:545: container init caused: rootfs_linux.go:76: mounting "/host_mnt/usr/local/opt/sparrow/srcroot/frontend/default-content" to rootfs at "/app/site-content" caused: mkdir /var/lib/docker/overlay2/c87062967c034960a87c9229675f23abdfe4cf76111d5508cce7309fc125f453/merged/app/site-content: operation not permitted: unknown Attaching to srcroot_gateway_1, srcroot_frontend_1, srcroot_api-tests_1, srcroot_backend_1, srcroot_db_1
Looks like the issue is docker is trying to make a directory..?
docker commit <container_id> my-broken-container && docker run -it my-broken-container /bin/bash
The above command enters into a container that immediately fails and the saves it's state as a new image and then bashes into that so you can view debug logs